Say goodbye to unsightly silicone sealant
RockitSeal and TeleSeal, the original and award winning products that replace the bead of silicone sealant around baths and shower trays are available to buy right here.
Universal fit – suitable for any flat topped bath or shower tray
Ideal for the professional or DIY user
Fast and easy to install
Under tile or over tile installation
Also works with uneven or misaligned tiles
Chemically welded corners to provide 100% seal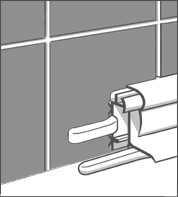 Our fresh design principles, coupled with modern manufacturing techniques and carefully selected materials mean we are able to deliver mass-manufactured, robust, water-tight seals that have universal fit and an indefinite life span. RockitSeal and TeleSeal – the no-maintenance "fit and forget"  bath/shower seals.
For the latest in slim line design, mould/mildew protection and leak proofing around your bath or shower, choose RockitSeal - our 2nd generation seal. For the original classic design choose TeleSeal.
Both are easy to install and use our unique seal technology, designed and engineered to seal for life.